Four of Cambridge's top bands to compete for a set at the
Cambridge Club Festival this summer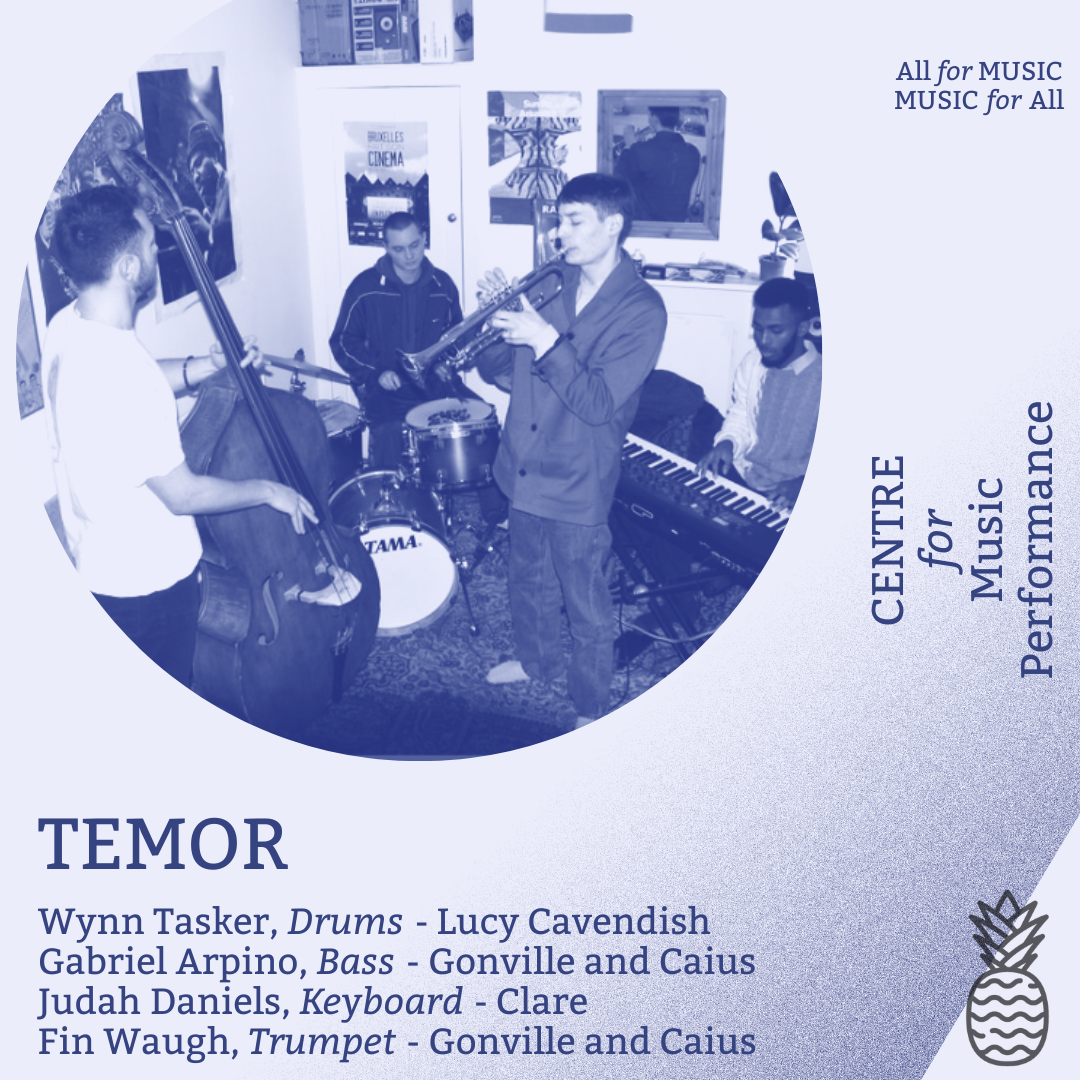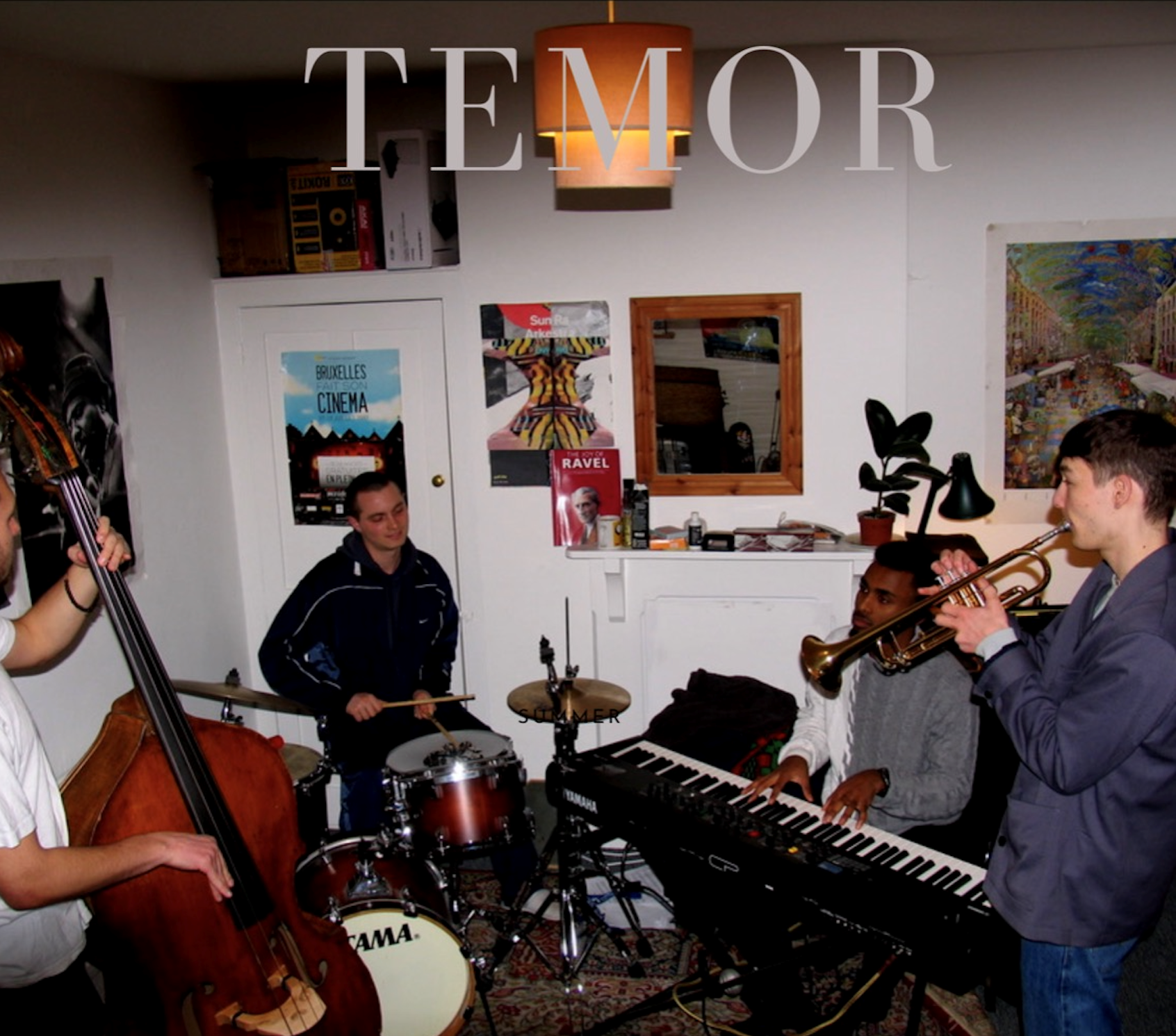 Take it to the Bridge is a new student band competition run by the Centre for Music Performance in partnership with The Cambridge Club Festival.
The competition is designed to showcase some of the best bands in the University, with the winners being awarded a set at the festival on Saturday 10th June, joining the likes of Lionel Richie, Grace Jones, and Billy Ocean on the line up.
The audition round in November featured over 60 students in 15 bands, with the final four groups now competing at Hidden Rooms on Sunday 23rd April.
2 of the final four feature students from Clare. Judah Daniels plays keys in TEMOR, whilst Anna-Maria Woodrow, Noah Turner, Tom Edinburgh and Nick Wise are in Colonel Spanky's Love Ensemble.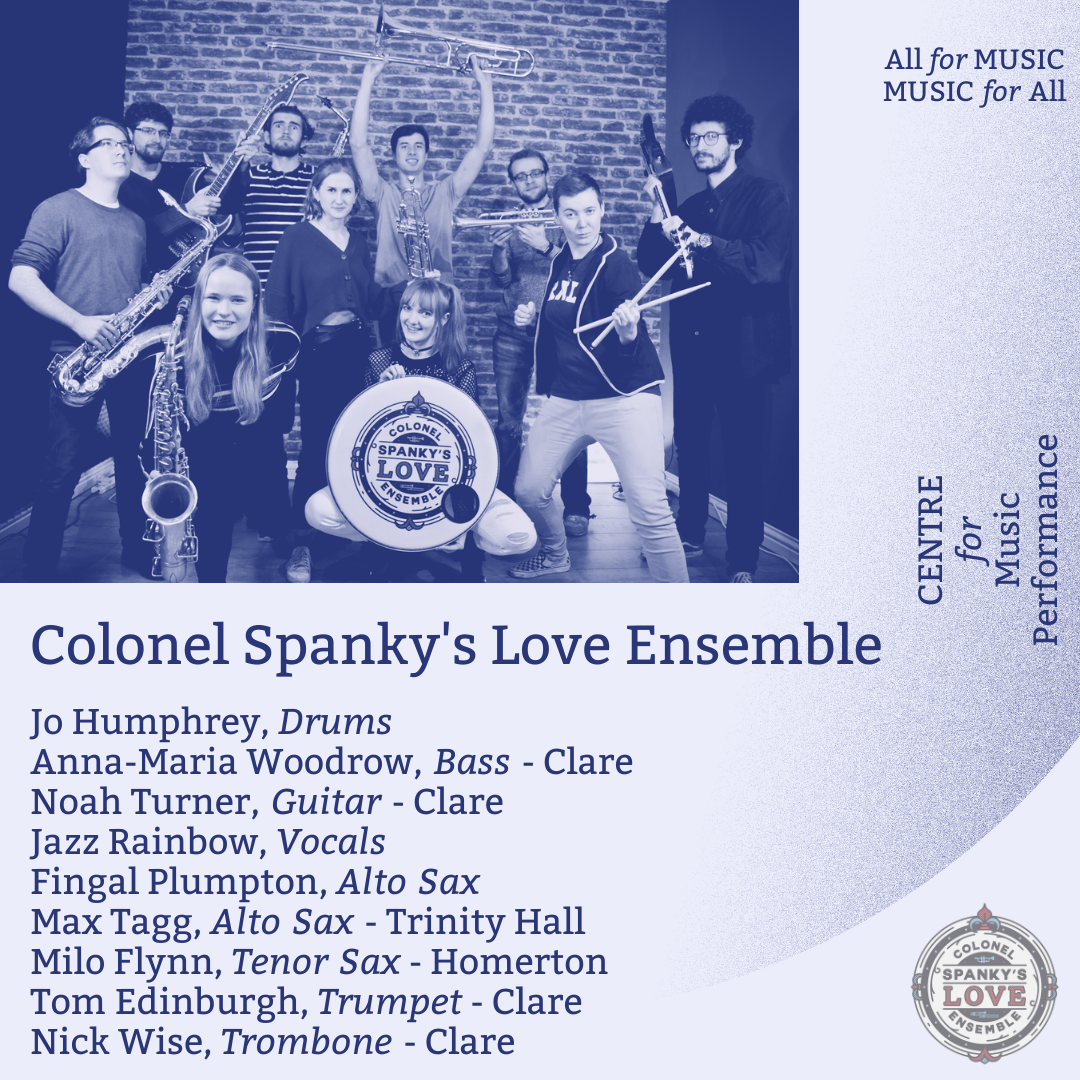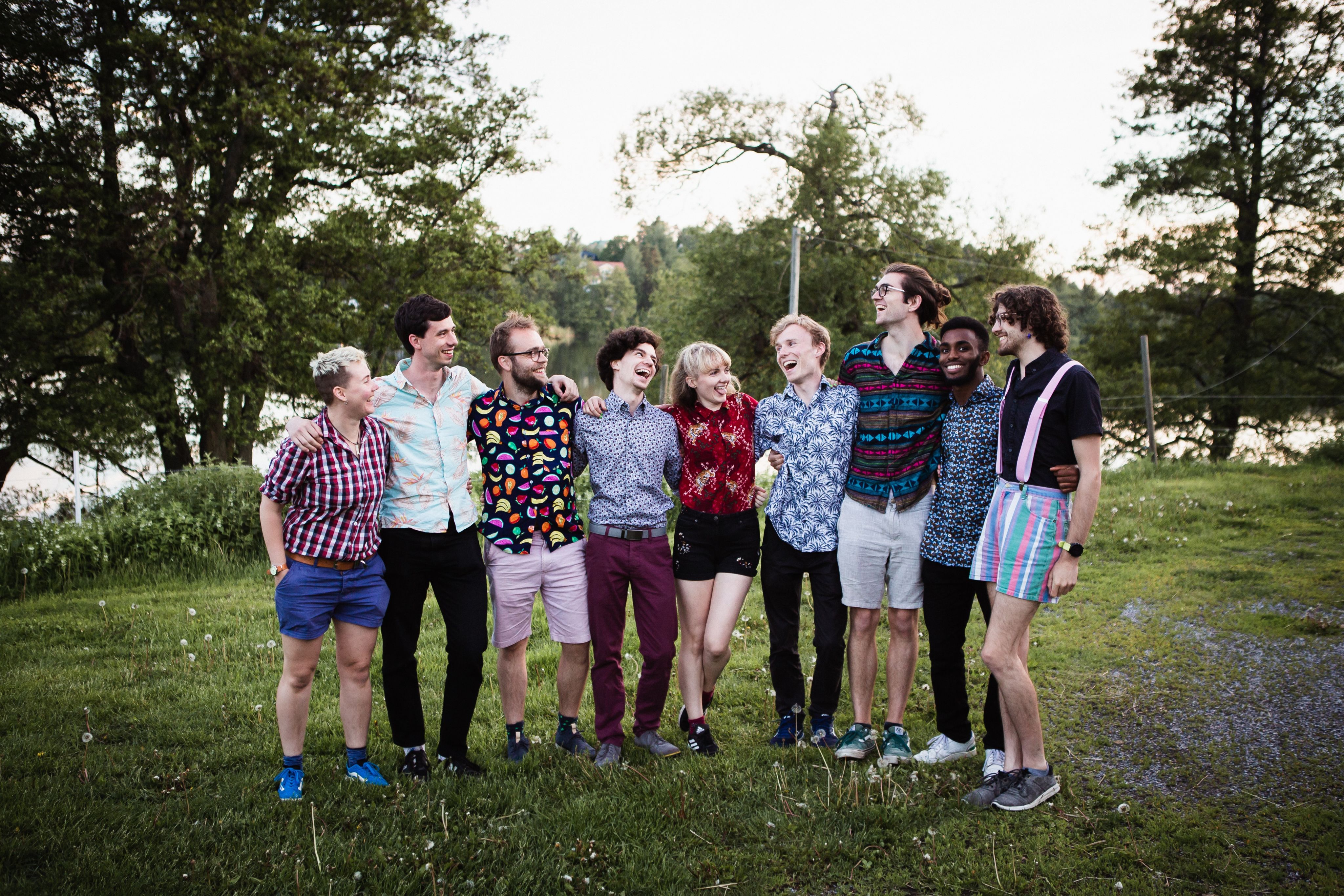 We caught up with both bands to find out more about the competition and their love of music...
When did you join Temor and when did the band start?
Temor started in 2021, it was started by the bassist Gabriel Arpinio, and I joined in November 2022.
Tell us a bit more about the band and the music that you play?
We are a jazz quartet, we play improvised music consisting of unique arrangements of tunes and a growing body of original music.
When did you first start to learn an instrument?
I've been playing piano since the age of 10, going down the classical route with lessons and Grade exams. I've always been interested in jazz, and listened to a lot of Bill Evans when I was young (and still do). At the age of 15 I wanted to learn how to play by ear so I started playing regularly at church on Sundays, we'd have to be able to accompany any song in any key without warning, so that was a very good learning experience! I then started to learn jazz, as my mom was performing as a jazz singer, and needed a pianist.
What are you studying at Clare and what year are you in?
I'm studying undergrad computer science, and I'm in my final year, but I'm planning to stick around for the music!
How do you balance your studies with being in a band?
It's tricky, but the main thing is that I get so much joy from performing that it helps me to be more productive in the reduced time I have for work.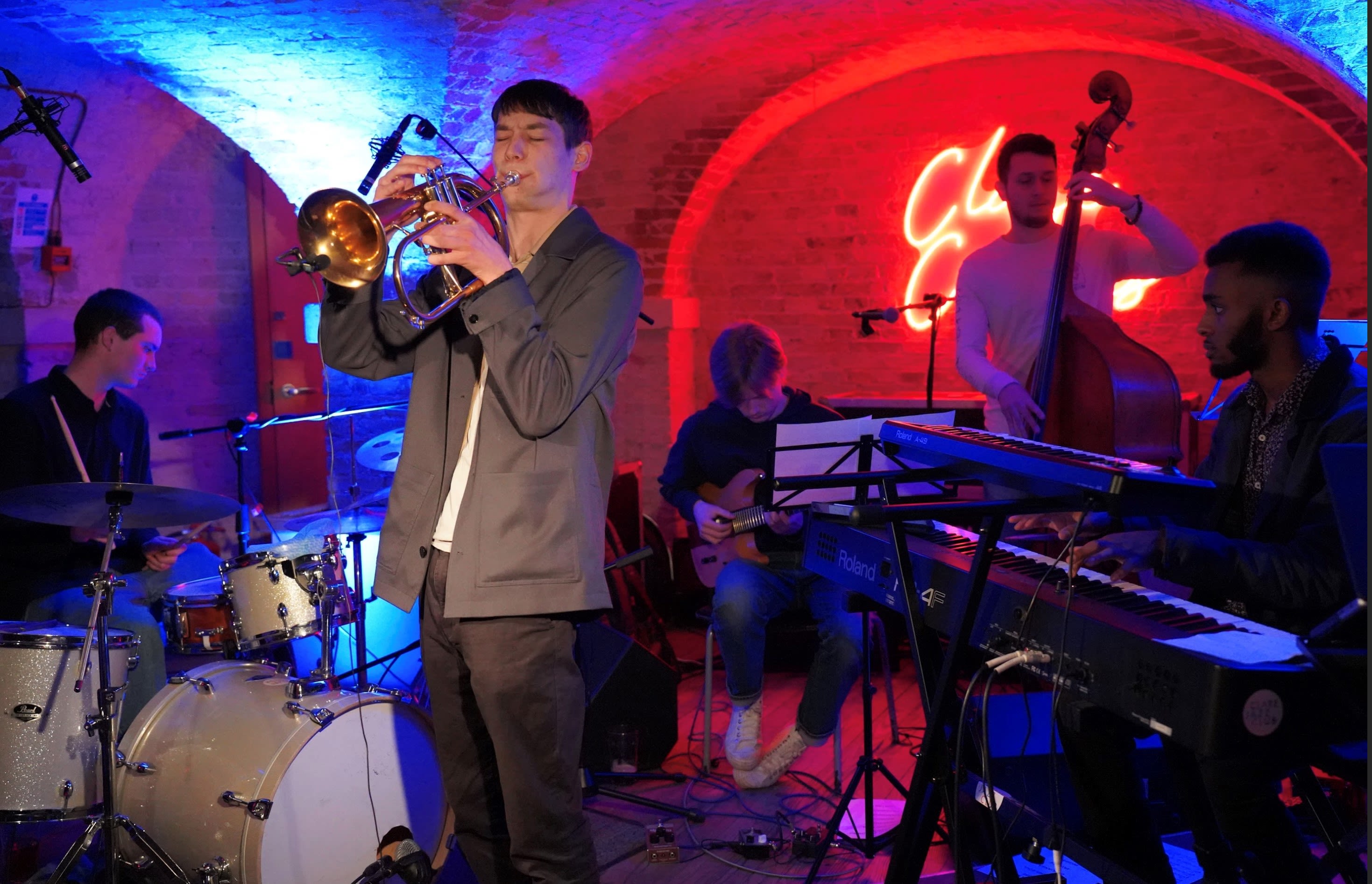 When did you all join Colonel Spanky's Love Ensemble and when did the band start?
The band formed at Clare in 2009, with the goal of performing on some May Ball stages! In the beginning, we were a 13-piece band and a small handful of crowd-pleasing pop covers and arrangements. Our longest standing member is Nick (old and wise, and now a Clare research associate!), who joined as a first year Engineering undergrad in 2010. The rest of the band gradually joined as Spanky's alumni graduated and left Cambridge.
At the moment, there are 9 of us: vocals (Jazz), drums (Jo), guitar (Noah), bass (Anna-Maria), saxes (Fingal, Milo and Max), trombone (Nick) and trumpet (Tom). A core of the band have remained in Cambridge for a long time, with three Clare alumni (Jo, Fingal and Jazz), who matriculated at Clare in 2012, and Tom joining in 2014 (somehow he's still just about a graduate student). When we auditioned for a new bass or guitar player in Easter term last year (2022), Anna-Maria and Noah both auditioned, but on different instruments. We're Clare through and through (apart from Max and Milo from Trinity Hall and Homerton)!
Tell us a bit more about the band and the music that you play?
We basically take beloved tunes (hits from the 50s all the way up to last year) that people love to dance to at parties, and make them twice as good by playing them with a 5-piece horn section and coordinated dance moves! We have a lot of fun on stage and that seems to rub off on our audiences too.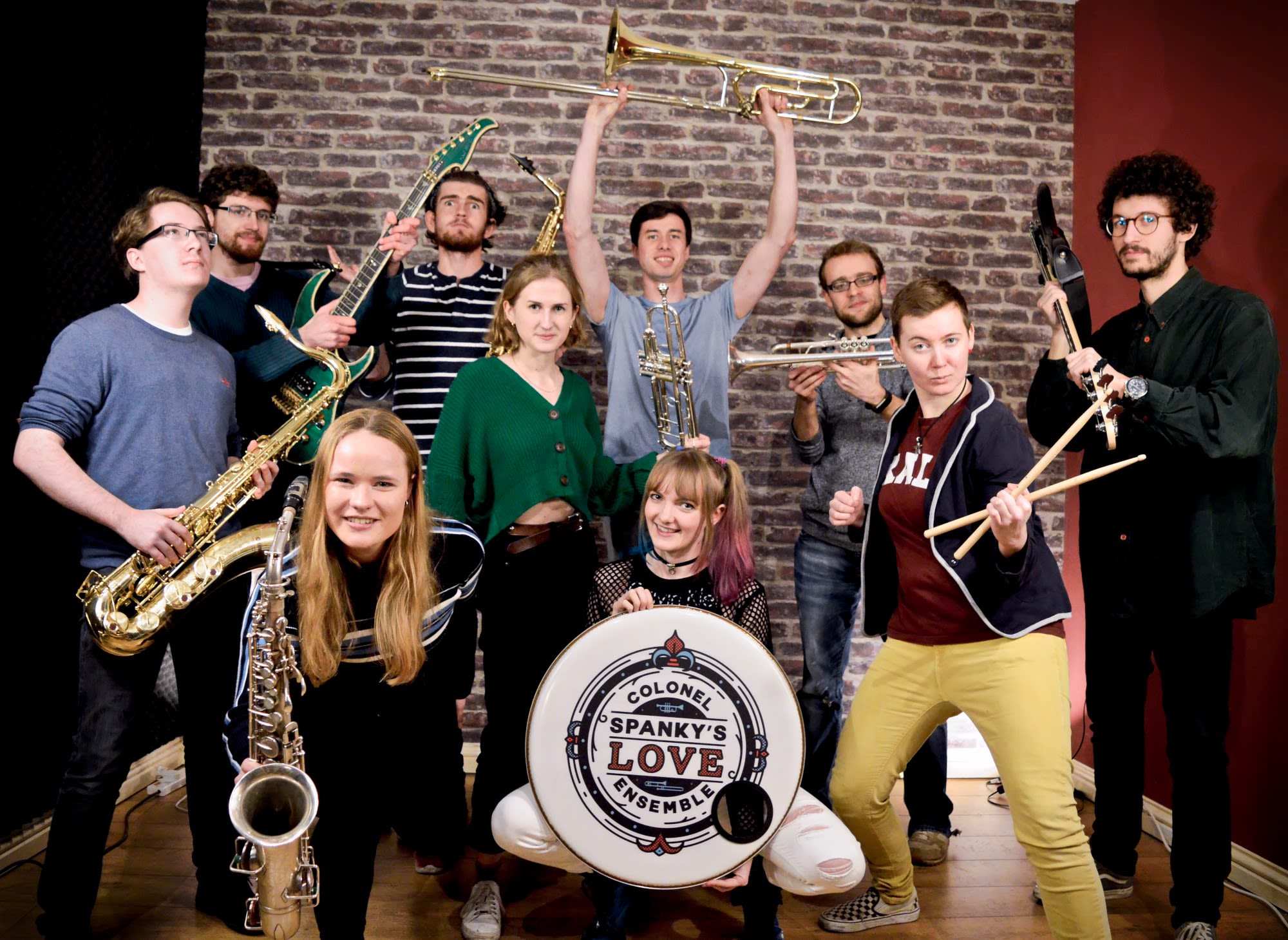 Why did Colonel Spanky's Love Ensemble decide to enter the Take it to the Bridge competition?
Mostly we just like performing and having fun on stage! Originally the venue for the finals was the Corn Exchange (it is now at the Hidden Rooms), and we'd love to have a chance to play there again as it's an amazing venue - we played there a long time ago for the Cambridge University Charity Fashion Show.
In the last few years, we've organised a few joint gigs with other student bands in Cambridge and Oxford, and we always enjoy dancing along to their sets before or after our own. We're looking forward to supporting both our friendly rivals and the Centre for Music Performance. Finally, it would also be brilliant to win the prize of playing at the Cambridge Club Festival!
How do you balance your studies with being in a band?
We're quite experienced at this! We can pack a lot into our weekly two hour rehearsals. The frequency of gigs can be a bit unpredictable, with quieter periods and some very hectic periods. We're all students or alumni, and we know the pain of an essay crisis or frantic pre-exam revision and we're good friends, so we're understanding and supportive of each other when things are a bit busy.
Most of our faraway gigs (we do quite a few alumni weddings nowadays) are over the summer, but we have a large pool of past band members who can dep for us if we need. Most gigs are normally too fun to miss and are a great way to destress from studying!
What has been one of your most memorable gigs and why?
One of our most significant gigs was playing at the first Cambridge Pride in 2019. It was a huge stage and a massive crowd, and the event personally meant a lot to lots of our members. Seeing the crowd waving their arms in time to us playing 'It Must Be Love' was very special!
Last year, we performed outside of the UK for the first time, which was definitely very memorable. This was a wedding just outside Stockholm for a couple from Cambridge, at the lakeside farm where the bride grew up. It was a really beautiful venue, plus most of us managed to get some time off to turn our weekend away into a pan-European holiday. We're really good friends as well as bandmates, but we'd never gone on holiday together so it was a wholesome, sometimes silly and very entertaining trip.
Good luck to Temor, Colonel Spanky's Love Ensemble, Cheap Date and The Daniel Daley Sextet for the final battle!
Sunday 23 April, 7pm
Hidden Rooms, Cambridge