"Elizabeth de Burgh, Lady of Clare, was a remarkable woman. But wherein lay her remarkable nature?"
John Woodhead (1966)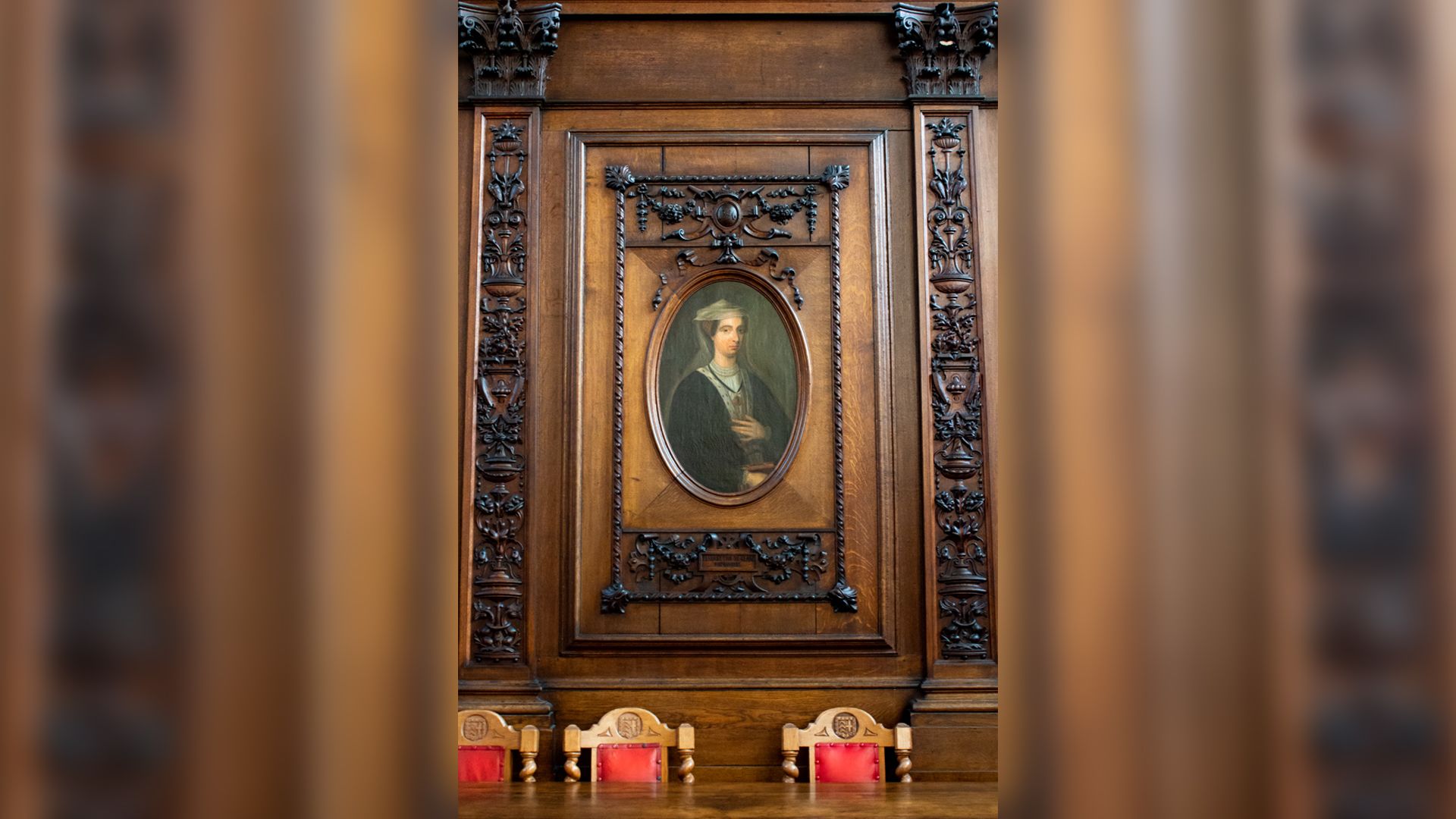 Elizabeth de Burgh, Lady of Clare, was a remarkable woman. But wherein lay her remarkable nature? True, she was well connected: the granddaughter of Edward I, and niece of Edward II. Some would say it was remarkable that she outlived three husbands and, indeed, she was three times a widow by the time she reached the probably not so tender age of twenty-six. On the death of Roger Damory in 1322, she was widowed for the last time. However, Elizabeth lived for a further thirty-eight years and it was during this period of her life that she was able to take greater control of her destiny.
At first, Frances Underhill's richly detailed biography of Elizabeth de Burgh had not been available in the UK. Fortunately, and by chance, Claire Barnes (Clare1976) came across a copy in a bookshop in Kuala Lumpur. Investigations revealed that a further print run could be necessary. This provided the opportunity for a second edition, edited by Claire Barnes herself, with significant and important appendices and superb illustrations.
Edward II was king at the time the Lady of Clare came into her own. As Professor Underwood indicates, her close kinship had both advantages and disadvantages. On the one hand, she was able to enjoy a degree of royal protection but, on the other, the king exercised power and influence over key aspects of the lives of Elizabeth and her de Clare sisters, Eleanor and Margaret. All three were married to the king's favourites. Owing in part to the tyranny of Edward's rule, these were troubled times and there was suffering and increasing chaos across the country. Elizabeth's fortunes were not unaffected. However, after the downfall of Edward II, following the invasion of 1326, led by Isabella of France, Edward's queen, Elizabeth de Burgh's situation improved.
Frances Underhill's book traces the fascinating life of Elizabeth throughout this tumultuous period. She provides perceptive insights into her character and evaluates her ability to manage her extensive estate, which included lands and properties in Ireland, Wales, and England. When necessary, Elizabeth fought tenaciously in the courts to retain property coveted by her brother-in-law, Despenser.
However, the Lady of Clare was much more than a wealthy property magnate, as Professor Underhill has shown. Her remarkable nature and her nobility of spirit are visible in the quality of her relationships with her family and friends, in the care she displayed in managing the people who worked for her, in her patronage of religious houses (for example at Walsingham and in the Suffolk village of Clare), in her establishment of Clare College and in her love of the precious pearl of learning.
Elizabeth was part of a small network of key patrons at a time when England produced some of its greatest art and architecture. Those who were her friends included not only Queen Isabella but also Marie de St Pol, foundress of Pembroke College. In fact, this was an exciting period for the university in Cambridge, as Claire Barnes notes in her detailed appendices. No fewer than seven colleges were established between 1317 and 1352, of which five survive as independent entities (King's Hall and Michaelhouse having been absorbed into Trinity).
As Dr Underhill shows, Elizabeth de Burgh had a wide social network of family and friends and she maintained these relationships assiduously. She had three children of her own, one born from each of her marriages: William de Burgh, Earl of Ulster, Isabella de Verdon and Elizabeth Damory. Although Edward the Black Prince was thirty-five years her junior, they clearly enjoyed each other's company. She kept a very good table and would lay in his favourite food and wines, and move hunting dogs, in preparation for his visits. Edward III continued to visit her and they treated each other with mutual respect.
As I myself read English at Clare, I find it fascinating to note that these were the days of Geoffrey Chaucer (1343-1400) and that he is thought to have been influenced by this grand lady with great style. The arts flourished and no doubt Elizabeth and her associates enjoyed the skilfully produced books and manuscripts, the fine textiles and garments, the exquisite jewellery, and the costly gold and silver devotional objects and domestic ornaments and tableware. She lived in elegant houses, dined well, was looked after by those she employed, and had the generosity of heart to enable others to share in her good fortune. In a well-structured account of the possessions left in her will, Claire Barnes provides concrete evidence of the life-style that the Lady of Clare enjoyed.
Elizabeth's voice lives on in her statutes and other documents. She bequeathed religious and academic books to Clare College but unfortunately these have not survived the centuries. Nevertheless, the students and fellows of Clare College to this day have been her undoubted beneficiaries.
Professor Underhill, who taught history at the University of Richmond, Virginia, died, in 2017. Sadly, she did not live to see her book "reach more of its natural readership", as Claire Barnes puts it. For Her Good Estate, The Life of Elizabeth de Burgh, Lady of Clare is a very good read, full of wonderful stories and underpinned by meticulous research and scholarship. Frances Underhill would have been delighted with the richly illustrated and now available Second Edition, skilfully put together by Claire Barnes.
'For Her Good Estate: The Life of Elizabeth de Burgh, Lady of Clare' is now available in paperback through bookshops worldwide, and in a limited-edition hardback directly from the college. Those fortunate to have a rare copy of Prof Underhill's original book will find the text of additional essays and additions on the book website. Others may wish just to browse the website and twitter account, which give an idea of the range of remarkable stories touched upon in the biography.

New material has almost doubled the length of the book, yet the new edition is easier to navigate - especially the hardback, which opens flat and has three marker ribbons. The illustrations are sumptuous, reflecting the artistic glories of Elizabeth's age and her significance as a key patron. The hardback also features endpaper illustrations of Clare and Walsingham, based on contemporary manuscripts; the first person to identify all sources may claim a CD of their choice from Clare Choir. Elizabeth stipulated that music should accompany services at the heart of college life. Reflecting a hope that the present musical excellence will continue in the decades and centuries ahead, net proceeds from sales of the attractive paperback, and all proceeds from sales of the beautiful hardback, will go to the Friends of Clare Music.
ISBN: 978-1-9163768-9-2 (hardback), 978-1-9163768-0-9 (paperback)

Pricing: hardback £40 + P&P; paperback £24, and less through some channels

https://barnes1.net/FHGE/ - book website

https://www.clarealumni.com/pages/media/for-her-good-estate - order form for hardback

https://twitter.com/ClaireFromClare